Blog
Improved Partner Portal functionality
4 minutes | 17 August 2022
Improved functionality for a better user experience 
At Nasstar Channel, our goal is to be the single source of solutions, with a breadth of services dedicated to the needs of our partner network.
As one of the largest independent providers of transformative technology in the UK, we are here to help our partners succeed. That means providing them with the tools to deliver business-driven results for their customers. 
We strive to provide our Channel Partners with more ownership, control, visibility, and reporting power than ever before. That's why we have invested in developing our Partner Portal, providing additional functionality to enable enhanced services and capabilities.
What is the Partner Portal?
The Partner Portal is a unique platform that provides partners with visibility over their entire estate, allowing them to better serve their customers. 
Through the portal, partners have oversight of everything including their connections, orders, services, and faults. It has empowered our partners and given them the tools to maximise their potential. 
Updated portal design 
We've put user experience at the centre of our design decisions and have been working hard to optimise the platform, across devices, meaning it can now it can be accessed on mobile devices, as well as desktops. 
Partners can now take advantage of the new Google Maps feature which provides straightforward visibility of their network of connections and allows them to filter by customer name or account number. That data can then be exported as a CSV file.  
The map feature is also auto-centring. So, if you've got connections in Northern Ireland and London, and want to view them simultaneously, the map will zoom in or out to include everything that matches your search.
The brand-new dashboard functionality
We're committed to designing and developing more features that improve our partner's experience. That's why we've refreshed the dashboard to include a new tab functionality.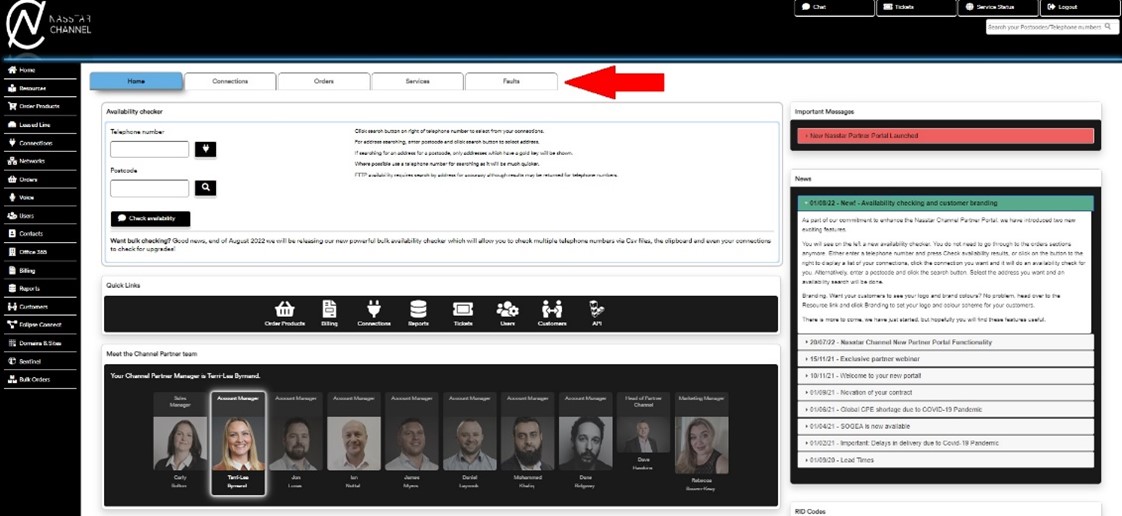 Accessible via the portal homepage, these new tabs have been created to help our partners navigate through their connections, orders, services, and faults - providing an intuitive user experience and offering more oversight. 
With a summary of these key areas, it's now much easier for portal users to understand, track and present the information that matters most to their customers.
Designed with UX at the heart 
Within the portal, there's a wealth of information available, but the new layout means all of this is presented in a much more user-friendly way. 
Easy navigation becomes especially important if, for example, a partner receives a customer enquiry about a recent order they've placed. Instead of having to contact our Channel Account Team to locate the information, partners have full visibility of their current orders and can identify specific cases by navigating through the correct tabs on the dashboard. The same is also true for faults. The portal allows you to search based on phone number, postcode, and geographic location. 
 


This functionality allows our partners to be proactive. If they log in to the portal and see that one of their connections in a particular postcode has turned red to indicate a problem, they can then use the tabs to drill down and pinpoint the issue.

We've designed the portal to be intuitive enough to be used by anyone on your team. From technical staff to sales and finance, the platform offers something for everyone, and the new dashboard makes it even more simple to use. 
From managing your accounts to placing orders and viewing connections, our Partner Portal will continue to evolve - making it easier for you to provide your users with exceptional service. 
Visit the Partner Portal and explore the new dashboard features
As always, your feedback is incredibly important to us. So, once you've tested out the new functionality tell us about your experience. Are there other features you would like to see?
Tell us! Email partnersales@nasstarchannel.com with your thoughts.