The next 24 months will see us transform the Nasstar network, replacing the legacy infrastructure and moving to an all-IP network.
Our existing network has been created through acquisition, and we are making the steps to move from 70 disparate sites nationwide to just 15 core hubs. This will enable us to build enhanced resilience and capability, whilst future-proofing.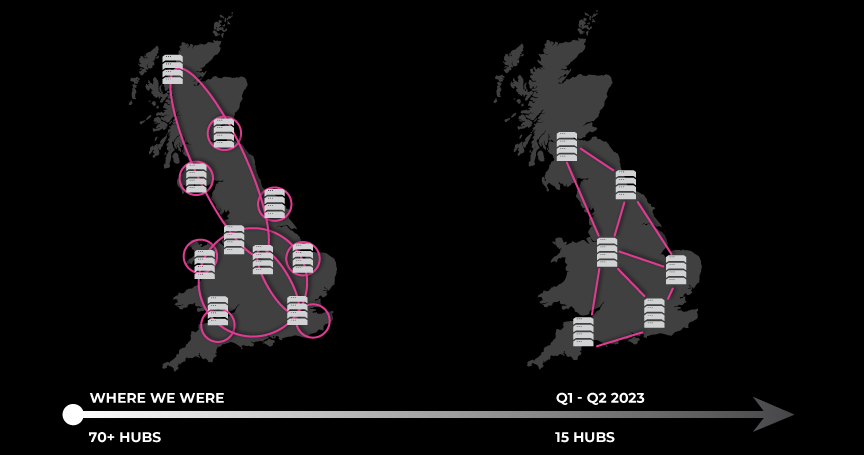 This transformation involves over a dozen projects to decommission the legacy systems from the network, and we will be working closely with you to make this happen.
With change comes opportunity, and we'll be supporting you to make the most of this through richer management information and an enhanced kit bag.
This harmonised, cloud-centric architecture will work across our product portfolio, providing multiple product consumption via a single platform, and without complex consultancy.
Image

Consolidate disparate legacy architectures
Image

Reduced footprint to strategic carrier-neutral Colo and DC
Image

Adaptation of partner ecosystem to gain comparative advantage
Image

Removing complexity to reduce operational overheads
Image

Automation of network provisioning
Image

Built to scale to accommodate bandwidth forecasts
Cloud-first approach
Utilising next-generation technology and embracing a cloud-first approach we are opening up new opportunities and delivering the innovative services and solutions you need to keep pace with the competition and face the challenges ahead.
We are creating an integrated service architecture containing highly scalable, high throughput, high port density devices with intelligence and automation.
This cost-effective and flexible architecture scales with your business needs and your customer's requirements, delivering visibility of your applications and data, plus intelligent analytics. Providing total control, with none of the complexity.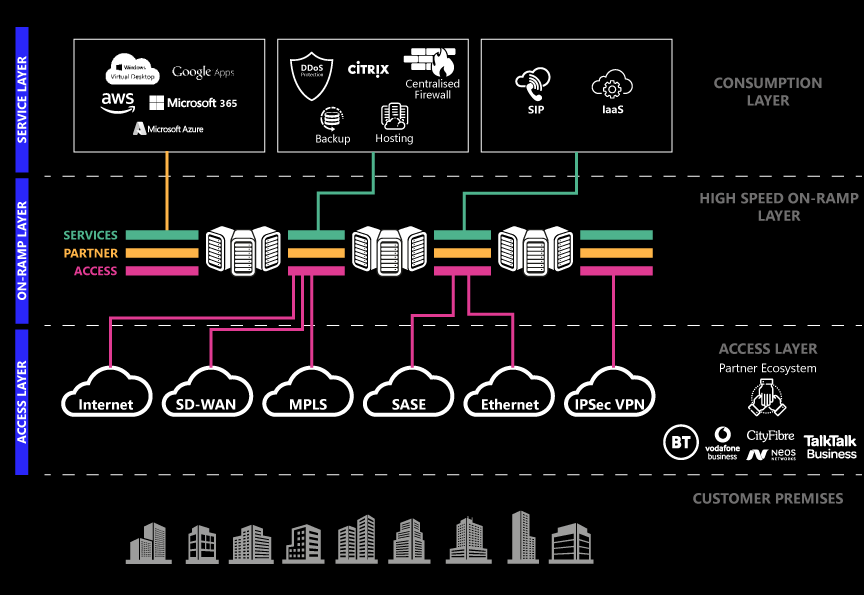 It is made available via a simple plug-and-play framework that reduces cost and complexity, improves security, and creates the flexibility needed in the modern world.
Image
End-to-end visibility of applications and performance data
Image

On-demand scalability
Image

Ease of purchase and service from one provider
Image

Enhanced end-user experience and performance
Image

Flexible and fast implementation across entire solution
Image

Low-touch Partner Portal, resell services in volume without consultancy
Image

Automation reduces time to commission
Image

Template driven approach drives