MPLS (Multiprotocol Label Switching) Solutions
.
Give your customers secure, fast network connectivity that delivers reliability for real-time applications.

Contact the team today to learn more about MPLS (Multiprotocol Label Switching).
Meet now
Enabling organisations to simplify communications and shared resources, MPLS securely brings multiple sites together as a single network. By providing better traffic management, MPLS ensures traffic on the network is sent to its destination efficiently, resulting in a consistent performance with less latency or packet loss.
Providing increased speed and reliability for your customers, MPLS provides the perfect solution for those businesses that need a consistently high-performance from their network solution.
Image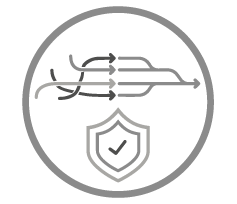 How will MPLS benefit your customers?
Dedicated support whenever they need it
Our 24/7 UK-based technical support includes a 100% SLA-backed service and proactive fault management.
The best technology, tailored to their business
Multiple access technologies, from ADSL to Fibre Ethernet and 3G/4G failover, plus easily add complementary services.
Fully managed, so they don't have to
Our robust and resilient architecture includes closed VPNs with optional internet breakout and cloud managed firewalls.
Cost-effective connectivity
Benefit from multi-carrier price advantages on a range of access technologies and networks designed for any size.
Got a question? Or not already a partner and interested in becoming one? Let's talk.