Myriad as a service (MaaS)
.
Enhanced and configurable inbound call management with a PCI payment option.
MaaS Brochure
The award-winning Myriad as a Service (MaaS) provides a complete end-to-end service from a single provider. Meaning you don't have to deal with multiple suppliers and your customers always get the best service.
No matter what the sector or size, MaaS can benefit any businesses that take inbound calls. Plus, with AgentPay it provides a fully PCI DSS compliant solution to take payments over the phone. The breadth and depth of features make it perfect for your customers' needs.
Image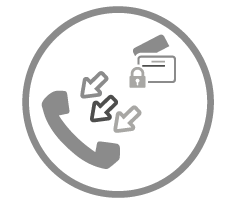 How will MaaS benefit your customers?
Total Control
Monitor usage and performance of their inbound services through dedicated access to their own powerful, easy-to-manage portal.
In-depth reporting and analysis
Use dynamic dashboards to see real-time views of calls by account or individual number. You and your customers can create multiple real-time views of key customer service metrics.
Low provisioning and running costs
MaaS eliminates unnecessary costs usually associated with provisioning on-premise inbound call solutions, including no upfront CAPEX costs or annual support charges.
Accessible from anywhere, on any device
Give your customers' instant and complete control over their call routing plans and call agents, exactly when they need to, from anywhere, on any device with an internet connection through the online portal.
Business continuity built-in
As a network-based platform, MaaS contains no single point of failure and is both logically and geographically resilient. If your customer has a power outage at their main office, they can instantly redirect calls to another location to maintain business continuity.
Got a question? Or not already a partner and interested in becoming one? Let's talk.