Teams Chat Assist
.
Real-time help and support, delivered by the in-house experts.
Teams Chat Assist Product Sheet
With the rise and normalisation of the disparate workforce, the need to quickly find answers has never been greater. Teams Chat Assist enables users to 'Ask the Expert' directly from Microsoft Teams and get the answer they need quickly in the flow of their work, whatever the size of the organisation.
Users can ask a question, and within seconds will be connected to a team member who can provide the answer.
Image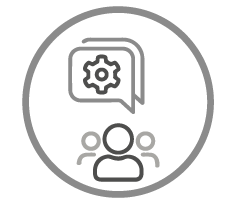 How will Teams Chat Assist benefit your customers?
No physical installation required
Get up and running fast by simply downloading the software.
Drive Teams adoption
By providing an enhanced experience, user engagement will increase, maximising existing investment.
Increase productivity and satisfaction
Makes it easier for staff to do their jobs and helps new starters settle in.
Drive continual improvement
Identifies common issues and provides consistent support for users when they need it.
Share knowledge
Upskill teams at pace by making it easy to find the answer.
Got a question? Or not already a partner and interested in becoming one? Let's talk.