FTTC (Fibre to the Cabinet)
.
A cost-effective solution that delivers superfast fibre broadband, making FTTC (Fibre to the Cabinet) an efficient, convenient, and cost-effective solution.
FTTC (Fibre to the Cabinet) Product Sheet
Known for its reliable, high-quality connection with superfast speeds up to 80 Mb download and 20 Mb upload, FTTC (Fibre to the Cabinet) is a budget-friendly solution that doesn't compromise on performance. Ideal for small and medium businesses, including start-ups looking to expand without the high cost.
Image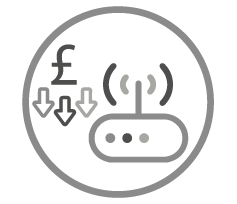 How will FTTC benefit your customers?
Increased speed and reliability
Up to 80Mb download and 20Mb upload speeds – perfect for hosted server access or cloud applications.
Unlimited data
All the data they need for their business requirements with no extra fees and no caps to worry about.
Host multiple users
Large enough bandwidth to cater for multiple users simultaneously, with multiple free static IP addresses included as standard.
Enhanced control
Access to customised connection management portal. View real-time diagnostics, bandwidth allocation, and bill maintenance.
Cost-effective
High-quality, reliable broadband connection with affordable setup costs and low monthly fees. 
Got a question? Or not already a partner and interested in becoming one? Let's talk.