GFast Broadband
.
With download speeds of up to 330Mb, GFast means you can offer your customers ultrafast broadband capable of handling data-heavy workloads.
GFast Broadband Product Sheet
Four times faster than traditional FTTC broadband, for customers who want super-fast speeds, GFast is the ideal solution. Using fibre and copper connections, GFast is available in areas where FTTP isn't. With the capability to handle data-heavy workloads, it provides more than just the basic email and web browsing abilities of standard broadband.
Image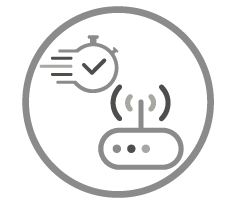 How will GFast benefit your customers?
Improved availability
Currently available in 2.8 million premises across the UK, GFast is available in many areas where FTTP may not be yet.
Unlimited data
All the data they need for their business requirements with no extra fees and no caps to worry about.
Fast and easy to install
Your customers can be up and running within 10 working days of ordering.
Reliable service availability
99.9% network availability means improved reliability and minimal downtime.
Fastest speeds available
Up to 330Mb download and 50Mb upload speeds mean no matter what the requirements, GFast can handle data-heavy workloads.
Got a question? Or not already a partner and interested in becoming one? Let's talk.